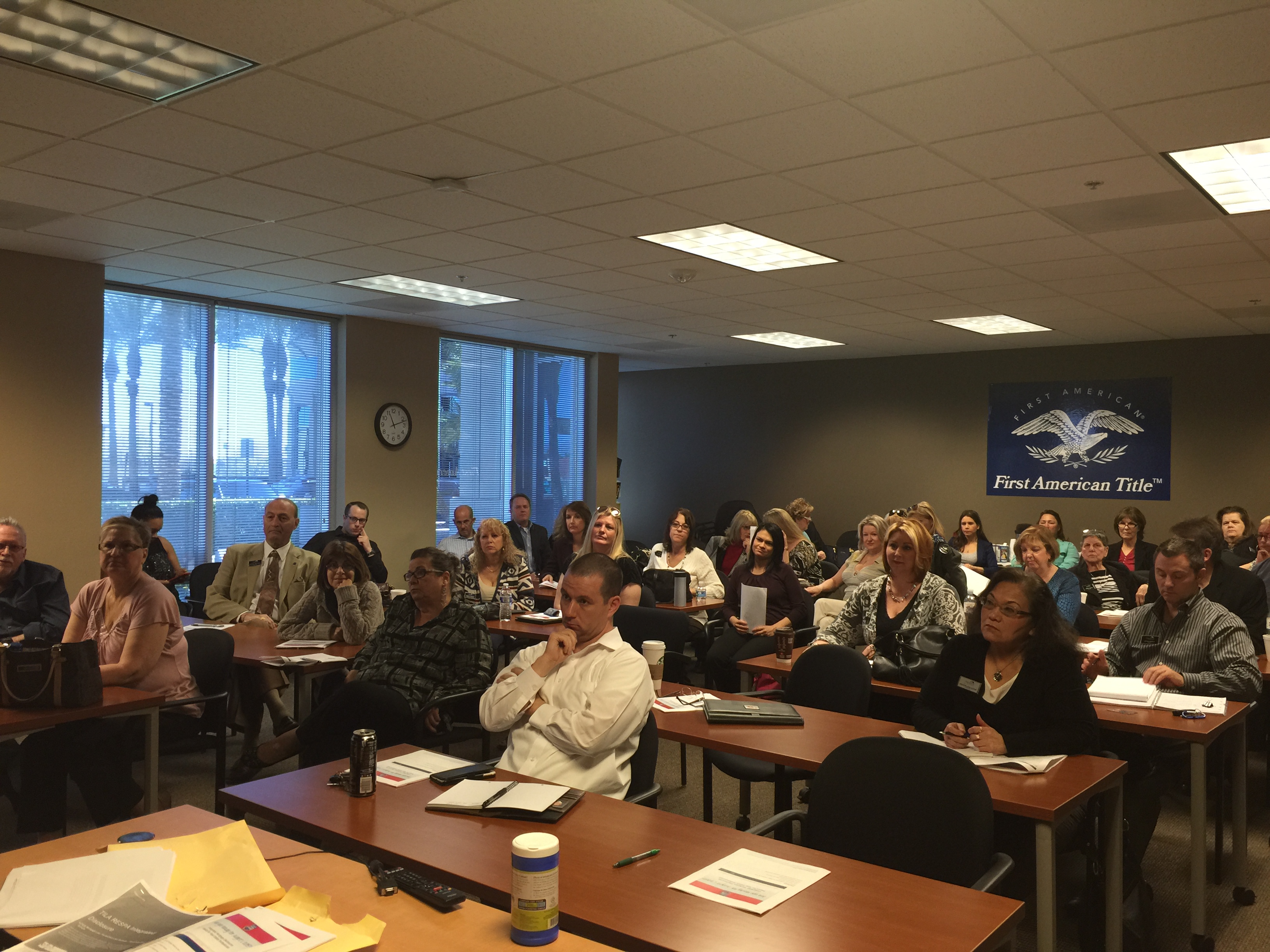 If you were not at the Master Mind meeting this morning, you really missed a very informative meeting. Big changes are coming in the way we do business and you need to be informed.
The MLS will not allow HOA foreclosure listings nor will Signature Real Estate Group. The buyers are not able to obtain Title Insurance and the liability for the agent is too great for us to allow them. If you see any on MLS, please report data error.
In January in Las Vegas, sales were down 12%, year over year, but equity sales were only down 2%. Cash sales were down 36% from over 46%. Inventory is up 13%. Focus on the millennials and 1st time home buyers. Market conditions are starting to favor them.
Market Trends for January 2015:
Median price up 9.2% to 202,000
Number of sales down 11.3% to 1705
Active listings up 19.2% to 12,287
Days on market up 12% to 67
Do you want to become a prestigious Risk Reduction Graduate? If you sign up for the one time good deal, you can. You must attend 2 core classes all day March 9th and 10th, both classes for $140 and a class on March 19th from 9:00am-12:00pm and April 14from 9:00am-12:00pm for $20 each. Then you will have your RRG which normally costs hundreds of dollars and many many hours to complete. This offer goes away on April 14th. For more information or to register please call Kenberly Gray at GLVAR at
702-784-5004.
GLVAR Global Business Committee and YPN are co-hosting a networking mixer on Thursday, February 19th from 5:00pm-7:00pm at The Sparklings, 8310 S. Rainbow Suite. 100, 89139. RSVP to Tyoung@glvar.org. Cost is $20 for 2 drinks and appetizers.
The Summerlin office will be deep cleaned on Saturday, February 21st. If you want your cubicle, desk, shelves, etc.. cleaned please remove all items from them. The cleaning crew will not move anything on top of your desk or cubicle.
Lunch and Learn at the office on Thursday, February 19th 11:30am. The topic is 97% Conventional Financing and Nevada Housing Grant Programs. This event is hosted by Jim Losell of imortgage. RSVP to Ashley.
Free CE Class with Neil Schwartz on Tuesday, February 24th from 1:00pm-4:00pm. The class is "Real Estate, it's a Team Sport," 3 hours of Agency. This is class is sponsored by Home Funding Corp. Seating is limited. RSVP to Ashley.
Many of you have inquired about what Kristina Pearson has done to look so fabulous. Kristina will be revealing all her secrets on Wednesday, February 25th, 4:00pm in our kitchen. All are welcome at the class on living nutrition.
Next Tuesday's Master Mind (February 24th 9:00am) will feature Kathy Heaney of Market Links teaching a class on reverse prospecting and covering Realist.
SUMMERLIN UPCOMING EVENTS:
Wednesday February 18th 9:30am- Basic RPA class
Thursday February 19th 11:30am- Lunch and Learn (RSVP to Ashley-ashley@signaturenv.com)
Thursday February 19th 5:00pm-7:00pm- Global Business and YPN Mixer
Monday February 23rd 9:30am- What Now? With the broker
Tuesday February 24th 9:00am- Master Mind
Tuesday February 24th 1:00pm-4:00pm- FREE CE Class (agency) with Neil Schwartz at our Summerlin Office (RSVP with Ashley)
Wednesday February 25th 4:00pm- Kristina Pearson class on Living Nutrition- how to lose weight